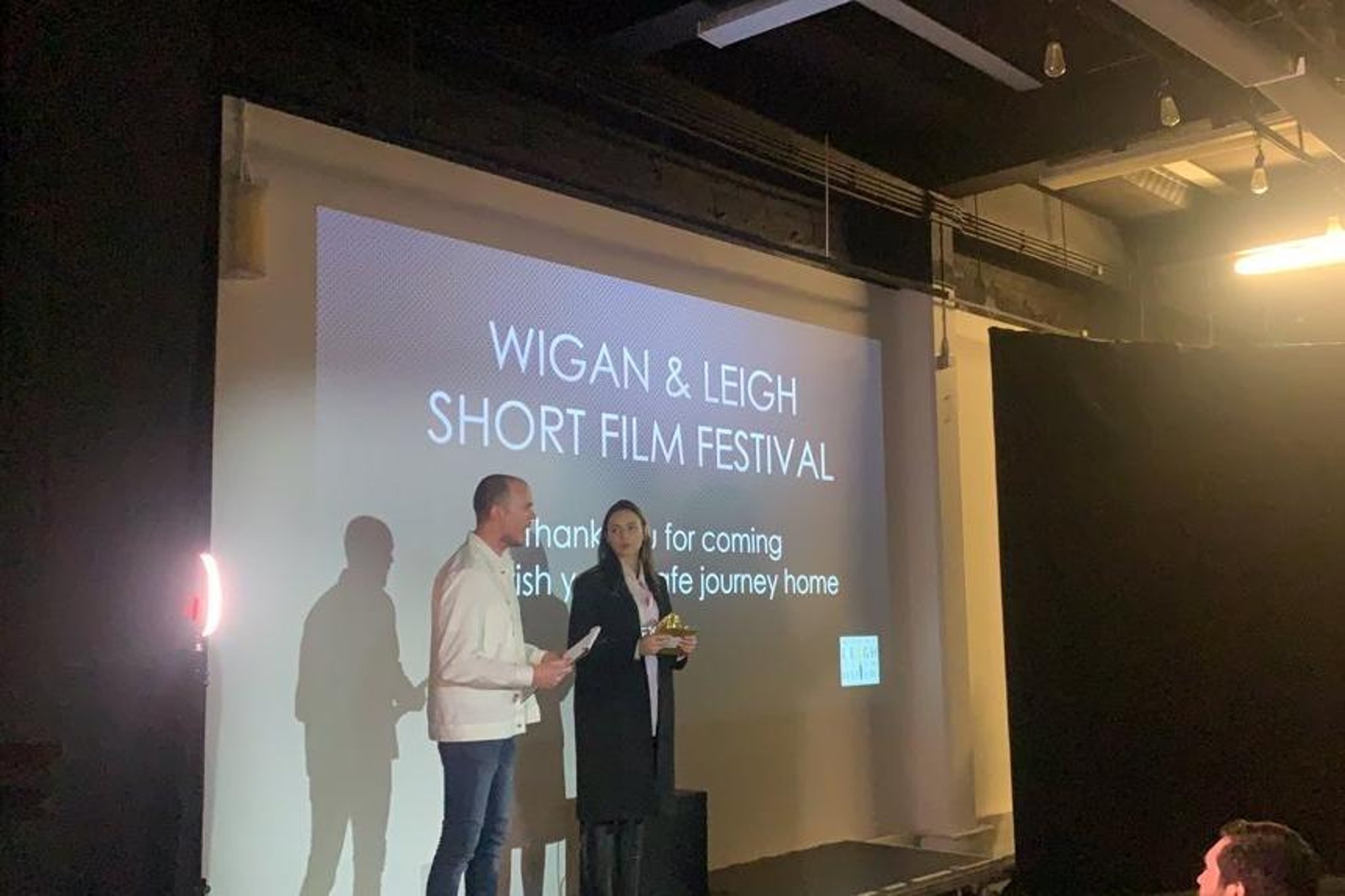 Wigan and Leigh Short Film Festival: Hometown Triumphs at Borough Cinema Celebration
Host Darren Jeffries and patron Sacha Parkinson on stage
The eighth edition of the Borough's biggest cinema celebration returned for an in-person event at near Capacity Turnpike, following last year's virtual reunion.
A team of volunteers was present that evening and were assisted by television and film students from Edge Hill University.
Wigan and Leigh Short Film Festival President Paul Costello said: "After another successful short film festival, and our eighth year in total, I think we can safely say that we have created a festival. district-wide film that not only offers entertainment but real support for students and young directors.
The eighth Wigan and Leigh Film Festival took place at the Turnpike Center in Leigh
"At the center of what we do as volunteers, we bring the best of short films from around the world and eight years later, we continue to grow stronger.
"Thanks to the incredible support from Edge Hill University, Owen Evans and Darren Jeffries and of course our audience.
"Special mention must be given to the wonderful team of volunteers because without their energy, kindness and passion for cinematic events like this would not happen. "
Read more
Read more
Stanleys: The Wigan group discuss the excitement of their first headlining tour, supporting the …
Joy France with the director of development of the Elizabeth Costello festival
Joy Uncensored, directed by Old Courts-based Northern Heart Films, won the audience's vote.
Directed by Natasha Hawthornthwaite and produced by Scott Bradley, the documentary follows slam poet Joy France as she seeks to overturn some ideas about the elderly and women by entering the divisive rap battle King of the Ronalds.
The Covid-19 pandemic also made its presence known at the festival, as the lockdown comic drama The Man at the Back of the Garden won the North West award.
It also made it a double triumph in the hometown, with filmmaker Paul Blinkhorn coming from Atherton.
Meanwhile, Save Ralph, a film about product testing on animals, won the Animation category, while the best young filmmaker was Jovi Kerr for Fortune, which was a scholarly tribute to the silent movie era.
A total of 14 films screened overnight, ranging from hilarious comedy and uplifting drama to hard-hitting emotional productions about serious issues to horror.
The event was hosted by actor Darren Jeffries, while former Coronation Street star and festival patron Sacha Parkinson joined him on stage to present the awards.
Mr Jeffries said: 'Once again the team gave us an unforgettable event, with directorial talent from all over the UK and especially the North West on screen for everyone to enjoy. to see him. And all in front of a real live audience! I liked it."
After a last minute change of venue for Leigh Spinners Mill, there was a sense of relief that the movie community could come together again after more than 18 months.
Thanks for reading. If you enjoy what we do and are able to support us, a digital subscription costs just £ 1 for your first month. Try us today by click here and consult our offers.