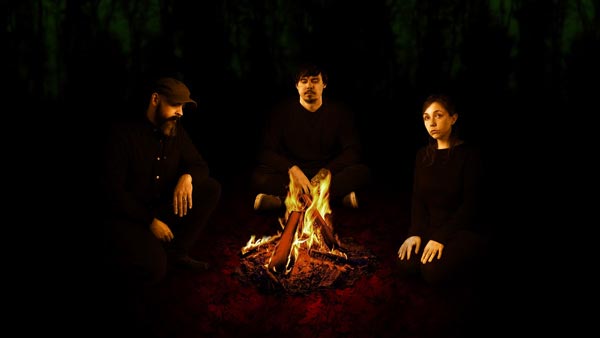 The Long Hunt Shares Full Album For Animation Short "Threshold Wanderer"
NEWS | FEATURES | PREVIEWS | EVENTS
originally published: 04/13/2022
"Threshold Wanderer" is the latest album by Pittsburgh-based instrumental trio The Long Hunt, following 2017's "Wild Tales" EP and 2018 "All Roads Lead Here" full length. Unlike the dry minimalism and sparse textures that defined the first two records, the songs on "Threshold Wanderer" are often lush, dense and verdant. The musical styles range from post-rock to post-metal, including heavy psychedelic, doom, drone, and even some hints of prog and classic rock. The band's latest release is dedicated to musical exploration and travel between worlds.
The album was recorded, mixed and mastered in the first quarter of 2020, with plans to release it later that year. Due to the uncertainty surrounding the global pandemic, these plans have unfortunately been shelved. Not to be deterred by events beyond their control, the band persevered behind the scenes.
After an intensive three-month course in 3D modeling, using open-source animation software Blender, guitarist Trevor Richards embarked on the monumental task of writing and animating an album-length music video. Eight months and over 1000 hours of work later, the accompanying music video/short film for 'Threshold Wanderer' was born.
Drawing on the band's frequent use of archetypal themes such as nature, life, death and rebirth, the music video for 'Threshold Wanderer' is an epic story-driven visual experience set to the music of The Long Hunt.
After two years of anticipation, the band released 'Wanderer from the threshold ' Friday, April 1, 2022.
Advertise with New Jersey Stage for $50-$100 per month, click here for more info
---
The Long Hunt is Trevor Richards: Guitars; Allison Kamar Richards: bass; and Mark Lyons: drums. From Pittsburgh, Pennsylvania, they are a doom, drone, post-rock, psych instrumental trio. Adaptable and dynamic, the music can change in volume and mood at any time.
With live performances often accompanied by samples, lights and projected images, The Long Hunt strives to create an immersive experience for audiences. The band has supported national/regional tours such as Karma to Burn, The Atomic Bitchwax, The Skull, Yatra, Rebreather, Insect Ark, Monte Luna, Horehound, Worshipper, Samothrace, He Whose Ox Is Gored and Child Bite, as well as appearances at several regional festivals.
Upcoming live shows:
May 06 – Canton, Ohio @ Buzzbin
May 12 – Pittsburgh, PA @ The Government Center (with Stander, Fuzznaut)
May 28 – Youngstown, OH @ Westside Bowl (with Blackwater Holylight, Divide and Dissolve, Frayle)
June 04 – Pittsburgh, Pennsylvania @ Descendants of Crom IV Day II
Advertise with New Jersey Stage for $50-$100 per month, click here for more info
---