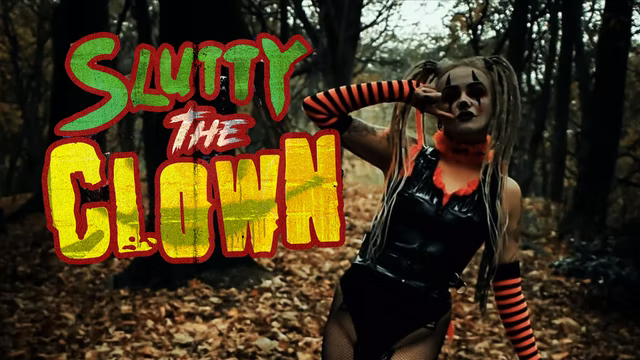 Slutty the Clown releases his first feature on the Troma Now streaming service
Model/photographer Claire Bacon was featured in the Troma SHE DOGS OF THE SS trailer, giving birth to her cosplay character, Slutty the Clown, who finally has her own feature film premiering this month on the service streaming Troma Now.
It's hard to tell you what the actual plot of the movie is, because frankly, it doesn't have one from what I could gather while watching. It sometimes feels like a glorified snuff movie. We follow Slutty from the opening to the end of the film, laughing through an abandoned building littered with debris, body parts and Teletubbies (yes, you heard me right…Teletubbies), tracking down two very attractive, scantily clad young females. Slutty imposes various tortures on them, ranging from the ripping out of one of their tongues to sexual humiliation. This film is in no way intended for the casual viewer.
I recently had the chance to chat with Claire aka Little Miss Death aka Slutty the Clown and got to know her and find out what's behind the makeup.
Critical Blast: How was the character of Slutty the Clown born?
Claire : I'm a model and photographer originally… But I created the character about five years ago as a cosplay and she earned her own living… Then I made a fake trailer for Troma, She Dogs of the SSand had the opportunity to expand the character to what you see now with director Joe Cash, they found it through my work in She Dogs and wanted to expand it.
Critical Blast: Have you always been a fan of horror and if so, what are your biggest influences?
Claire : I've always loved horror and from a young age. I saw The pit and the pendulum sneaking in late, and I was hooked. Then the horror of the 80s through my adolescence. And my main idols are these bad ass girls, like Jamie Lee Curtis, Neve Campbell, Linda Hamilton. Also influences from Steven King and great slasher legend movies.
Critical Blast: What's next for Slutty the Clown as a character? Do you have any upcoming plans in the works that you can tease or share?
Claire : Right now, Slutty is hatching her next sinister plan. I promise she will come back. As for the other me, I have a new character in discussion, Nurse RanciDD! Pay attention to her.
Critical Blast: FANTASTIC….is there anything you would like me to add to the article? Is there anything you would like your fans, or soon to be fans, to know?
Claire : I'm so glad I worked with Troma and Lloyd Kaufman and the original "Jason" Ari Lehman. Slutty lives forever! Me and my husband Richard and my creative team are so ready to create a lot more blood and carnage and great characters in the future.
Slutty the Clown debuts this month on Troma Now, directed by Joe Cash (Carnal Monsters, and the She Dogs of the SS trailer) whose movies and shorts are also available on the TROMA NOW app and you can also follow Claire on all these places to stay on top of everything SLUT.
Twitter @sluttytheclown @Knowtheunknown9 @richfrombrid @screamingscree1
Facebook www.facebook.com/profile.php?id=100005570745468
Instagram Claire Bacon/The Little Death @cmbacon