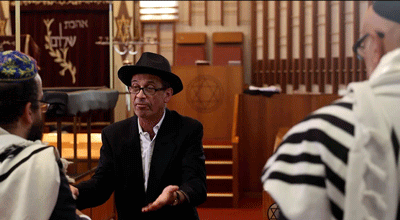 Memorable Scenes Demystify Holocaust Denial in Sydney Filmmakers' Global Feature »J-Wire
A scene set in a synagogue features Gil's twin brother, Oren Ben-Moshe, a fellow actor and producer. The offspring of Israeli parents who emigrated to Australia, the twins lived and worked in Israel for long periods of time. Gil and Oren, who have starred in numerous film and television productions together, produce Year 2020 through their production company MoneyShot Productions.
In the graveyard scene, a lonely mourner, played by Gil, protests to an anti-Semitic visitor, played by local Sydney actor James Morcan. Ben-Moshe's character directly confronts Morcan's anti-Semitic character when he hears him tell a caregiver that the Holocaust was just a "hoax" and that "six million Jews didn't die".
The explosive scene, filmed at Sydney's South Head Cemetery, is one that the filmmakers say will make an emphatic statement about the alarming and fascistic reasons why some people are still trying to deny the historically verified genocide.
Ben-Moshe says the reason for the scene is to expose the anti-Semitic mindset that exists among all Holocaust deniers.
"It's obviously a hugely sensitive subject to capture on film, but somehow, by exposing the unyielding hatred possessed by individuals like James' character, we hope to show film audiences the daily challenges that Jews face around the world," he said.
"And by giving enough rope to a character who denies the Holocaust, they end up hanging themselves when they are shown to have no historical facts, because my character systematically debunks their faulty theories one by one."
Ben-Moshe adds that the irony is that Morcan, who is also the film's director, co-wrote a 2016 book titled Debunking Holocaust Denial Theories.
"Published by Sterling Gate Books, it was co-authored with the help of Holocaust survivors and has been well received by book reviewers, World War II historians and the Jewish community around the world."
Year 2020 represents Morcan's first film as a director. Both screenwriter and author, he also wrote the novel and the screenplay adaptation. He describes the story as a multicultural kaleidoscope of interconnected characters seeking redemption, forgiveness and peace during the crazy year that was 2020.
"It's a vignette film, a rare type of film where there are several plots instead of just one. These are told separately, but they all intersect at the end to ultimately become part of a larger story," Morcan explains.
"Other vignette films, including crash, babyI, love in fact, Shortcuts and Magnoliawere well-reviewed, award-winning and generated excellent box office returns.
Getting into character for this role wasn't a problem for Ben-Moshe, especially since his character Levi is semi-autobiographical and draws from many of his own real-life experiences.
"We grew up in a tough part of downtown Sydney," he says. "And being the only Jewish family in the neighborhood was difficult. We were not accepted by our neighbors and integration into the community was an impossibility. Libel, anti-Semitism and violence became part of our daily lives over the next two and a half decades.
Gil and Oren are on screen together in a sequence shot inside Sydney's Kehillat Kadimah Shul Synagogue in Rose Bay, where they share screen time with local actor and politician Michael Gencher, the famous interpreter and journalist Geoff Sirmai; and Yonatan Barukh, teacher at Moriah Jewish School in Sydney. University.
The film's Jewish themes continue in scenes shot on location in Tel Aviv where Israeli actress Lital Luzon plays Gil's long-distance love in a riveting cameo.
Year 2020 was filmed for 12 months during the height of the Covid-19 pandemic, and despite having to navigate lockdowns and travel restrictions, it was filmed in 17 cities in five countries on four continents. Film crews shot actors in Israel, China, and Italy as well as several states in the United States and Australia.
Requiring the employment of film and cast crews around the world, it features dialogue in English, Hebrew, Mandarin and Italian, and it features an award-winning ensemble of international actors.
The cast includes leading Australian Greg Poppleton (Backtrack, The Chronicles of Narnia) and Erin Connor (occupation: rain, Dino King 3D), as well as American veterans Kevin Scott Allen (star trek, A.k.a, Prison Break) and Sheila Ball (Assault on VA-33).
A rough first edition of Year 2020 has already been completed. One of the next steps in the post-production process, according to Ben-Moshe, is to start developing the soundtrack.
"We expect the soundtrack to be absolutely crucial for a sensitive, character-driven film like this. To shape the sound of the film, we are in talks with Kim Allen Kluge and Kathryn Kluge, the team of husband-and-wife composers from Los Angeles who previously created the music for Martin Scorsese's 2016 film. Silencewith Liam Neeson.
Ben-Moshe also says revolutionary filmmaking methods had to be devised to get around the blockages.
"This has been achieved in part through the use of new technologies, and we have been extraordinarily fortunate to attract renowned film industry partners to each city who have helped us overcome the many obstacles we face. ."
Year 2020 is the fourth feature film that Ben-Moshe and Morcan have directed together, after shooting the post-apocalyptic film After Armageddon and two OZ-Bollywood movies, my cornerstone and i love you krishnawhich were both filmed in India and Australia, incorporating English and Hindi, and released internationally.
The filmmakers say their immediate goal for Year 2020 is to raise finishing funds to complete post-production to the highest standards and then gain acceptance at major film festivals later in the year. MoneyShot Productions' longer-term goals include a theatrical release, followed by online distribution on major streaming platforms.