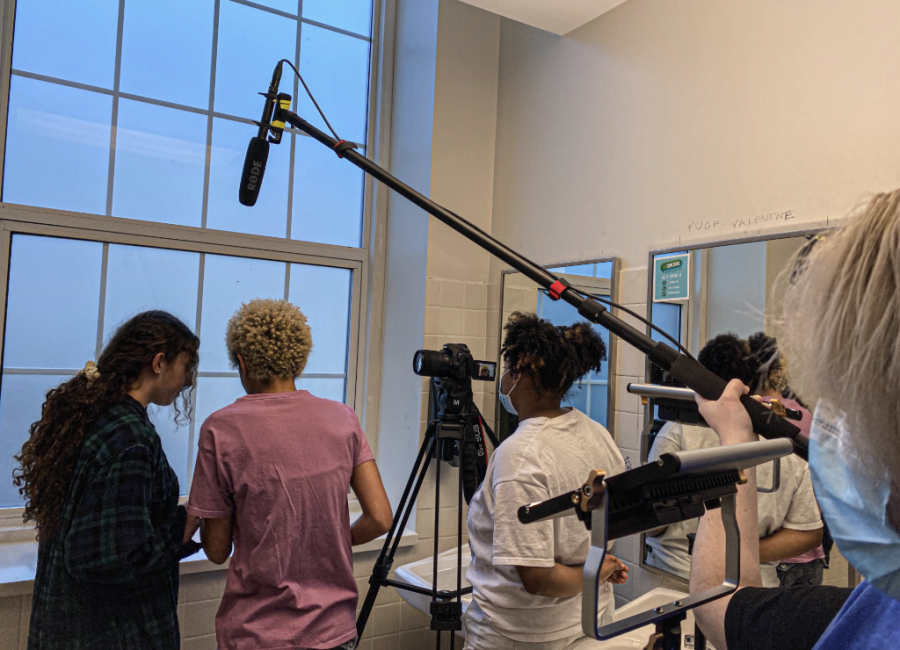 Drama Department Begins Production on New Short Film 'The Perfect Life' – the Southerner Online
After a four-year hiatus from film production in Midtown, the students are filming a new spring movie: "The Perfect Life."
The film features a college student named Claire, played by senior Leah Boeson, who wins a swimming scholarship. Her plans are derailed, however, once the character finds herself pregnant by her boyfriend, Ethan, played by sophomore Emmett McNulty. Both have their own future to think about, but now they also have a pregnancy to consider.
Some students are invested in participating in the technical side of film production, while others focus more on acting. Their combined interests in expanding their knowledge of the film industry and their interest in the plot of "The Perfect Life" itself help influence the students' choice to participate in the film.
"My reason for doing the film is that I had never been in film production before," said script supervisor Lily Roman. "I really like the concept of the film in general. I thought it was a really interesting premise and wanted to be involved.
This will be McNulty's first time starring in a film. His work in the theater program was previously focused on technical work, operating equipment such as a boom microphone. He saw the spring film as an opportunity to try acting.
"I thought it would be a good opportunity to star in a movie," McNulty said. "I've never done it before, turns out it could be a lot of fun."
The film focuses on exhibiting artistic angles and perspectives. The underwater shots and manipulation of sound, like a splash of water turning into a heartbeat, all help to convey the film's inventive technique.
"We're doing more of a cutting-edge thing with this movie," said acting teacher and director Jake Dreiling. "We are doing something that is not simple. We try to make very artistic and abstract choices for the shoot, which we didn't do last time. We tried a few [films such as Midtown's 2018 film, "Partner"], but that wasn't the main theme throughout. We try to make this story simple, but with an abstract vision.
The students think it is important to have access to films and cinematic experiences in a city where the industry is growing.
"I think it's important to know what it's like to act, and I think it's a great opportunity, especially in Georgia," McNulty said. "It's like Hollywood 2.0. It's the easiest place to start shooting a movie, and I think it would be really fun to get to know that part of Georgia and maybe be in a movie a day.
Some film participants believe that having film experience in Georgia will open up career prospects. The high school experience of film exposure could create greater accessibility for students' lives after high school.
"You could literally walk out of high school with [film] to experiment and get on set, and therefore be employed," Dreiling said. "You don't need a college degree to go work in the film industry. It's so easy to do and so accessible to people in Atlanta since we're such a hub now. We thought it was important to bring this experience to as many people as possible within a high school setting.
Senior Alaya Foote is the cinematographer and also helped write the script for "The Perfect Life". She also sees making films at school as an important way to expose interested students to the industry.
"I would say it's [getting exposed to making films in high school] very impactful and important because it's an art form, and it's basically the married version of our reality," Foote said. "It will help us see things in a different way; it helps us get a different perspective, and you know, it's also just entertaining; thus, you get a new way to entertain people.