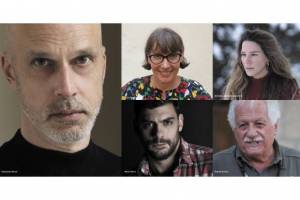 Competition Program Jury – 28th Sarajevo Film Festival Feature Film
Director and screenwriter Sebastian Meise (president of the jury), director, screenwriter and producer Lucile Hadžihalilović, writer-director Antoneta Alamat Kusijanović, actor Milan Marić and producer and senior consultant for Int'l Co-Productions Katriel Schory will part of the jury of the competition program – Feature film of the 28th Sarajevo Film Festival.
Jury President
Sebastien Meise
Director, Screenwriter, Austria
Sebastian Meise is an Austrian director and screenwriter. He studied painting and philosophy before turning to cinema and co-founded the Viennese production company Freibeuter Film. His acclaimed debut feature, "Still Life", premiered at the San Sebastián International Film Festival and won several awards. His documentary film "Outing" was presented at the Hot Docs Festival in Toronto. His latest feature film "Great Freedom" was screened at the Cannes Film Festival, where it received the Jury Prize – Un Certain Regard. The film also received the Heart of Sarajevo for Best Feature Film and Best Actor Georg Friedrich, as well as the CICAE Arthouse Award at the 27th Sarajevo Film Festival. "Great Freedom" was nominated for the Oscars ® and won numerous international awards.
Lucile Hadzihalilovic
Director, Screenwriter, Producer, France
Lucile Hadžihalilović studied art history before graduating from the Parisian film school IDHEC (now La Fémis). His first mini-feature "La Bouche De Jean-Pierre" premiered at Un Certain Regard in Cannes in 1996. In 2004, "Innocence" received the awards for best first film at San Sebastian, best film and for Best Cinematography at the Stockholm Film Festival. "Evolution" (co-written with Alanté Kavaïté) won the Special Jury Prize and Best Cinematography at San Sebastian in 2015, and Best Director at the Dublin Film Festival. Her latest film "Earwig" (co-written with Geoff Cox) received the Special Jury Prize at San Sebastian in 2021. She received the Méliès Career Award in recognition of her contribution to European genre cinema at the Sitgès Film Festival in 2021 Additionally, Lucile Hadžihalilović directed the short films "Good Boys", "Nectar" and "De Natura". She edited and produced "Carne" and "I Stand Alone" by Gaspar Noe and is also his production partner at Les Cinémas de la Zone.
Antoneta Alamat Kusijanovic
Writer-director, Croatia, USA
Antoneta Alamat Kusijanović is a Dubrovnik-born, New York-based screenwriter-director. Her directorial debut, "Murina", produced by Martin Scorsese, premiered in the Directors' Fortnight at the 2021 Cannes Film Festival and won the Caméra d'Or for Best First Film. His short film "Into the Blue" was nominated for a Student Academy Award and won awards at the Berlin International Film Festival, Sarajevo Film Festival, among others. Alamat Kusijanović is a former student of the Résidence Cinéfondation and the Jerusalem Film Lab. She holds a master's degree in writing-directing from Columbia University in New York and a master's degree in production from the Academy of Dramatic Arts in Zagreb, Croatia.
Milan Maric
Actor, Serbia
Milan Marić was born in 1990 in Belgrade. In 2013, he graduated from the Faculty of Dramatic Arts at the University of Arts in Belgrade, with a degree in acting. Immediately after graduation, he became a member of the Yugoslav Drama Theater ensemble in Belgrade. He acted in films such as "The man who defended Gavrilo Princip" (2014), "A good woman" (2016), "Humidity" (2016), "Dovlatov" (2018) and "Toma" (2021 ), among others. For his role in Aleksey German's film "Dovlatov", he won the Best Young Actor award at the 40th Moscow International Film Festival in 2018. He was ranked among the top ten European Shooting Stars at the 2019 edition of the Berlinale.
Katriel Schory
Producer, Senior Consultant Int'l Co-Productions, Israel
Katriel Schory studied at New York University (NYU) Film School. A producer for 25 years, he has produced more than 150 films and television shows, including feature films, documentaries, television series, international co-productions and production services. For 21 years, Schory has been the executive director of the Israel Film Fund. It has licensed the production of over 300 feature films in Israel and around the world. Many of the films he has licensed have won prestigious awards, including 4 Academy Award® nominations in the American Academy's Foreign Film category, Golden and Silver Lions in Venice, and Bears in Berlin. Schory was awarded the Knight of the Order of Arts and Letters, Berlinale Kamera for Outstanding Contribution to the Motion Picture Industry, Special Medal for Outstanding Achievement at the Telluride Film Festival, Lifetime Achievement at the Film Festival of Jerusalem, the FIAPF – The FIAPF – International Award of the Federation of Film Producers Associations for Outstanding Achievement in Film in the Asia-Pacific Region, the Variety Award and others.
Sebastian Meise, President of the Jury of the 28th Sarajevo Film Festival, on his return to Sarajevo in 2022: "I have always had a personal connection with the Sarajevo Film Festival and I am deeply honored to be part of the jury this year . Sarajevo is a place apart and the unique founding spirit of the festival is omnipresent there. It is the deeply humanistic conviction that cinema can do what politics cannot: unite people.
As jury president, Meise joins the most acclaimed filmmakers who have chaired the jury at previous editions of the Sarajevo Film Festival such as: Mike Leigh (2004), Miki Manojlović (2005), Jasmila Žbanić (2006), Jeremy Irons (2007), Nuri Bilge Ceylan (2008), Mirjana Karanović (2009), Cristi Puiu (2010), Ari Folman (2011), Kornél Mundruczó (2012), Danis Tanović (2013), Béla Tarr (2014), Călin Peter Netzer (2015), Elia Suleiman (2016), Michel Franco (2017), Asghar Farhadi (2018), Ruben Östlund (2019), Michel Hazanavicius (2020), Jasna Đuričić (2021).
The 28th Sarajevo Film Festival will take place from August 12 to 19, 2022.